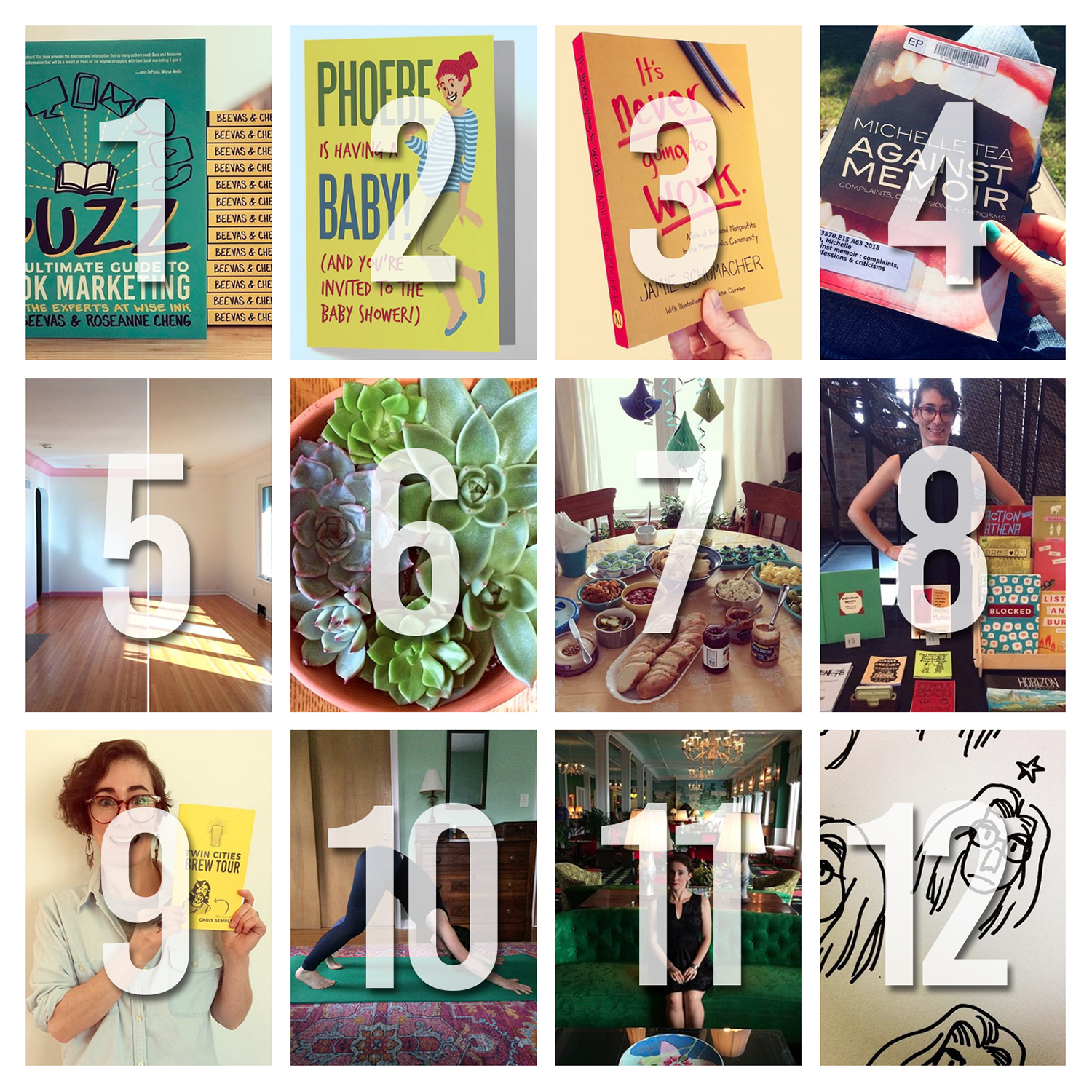 2018 Year in Review
2018 was a big one for me. It was my first full year as a freelancer, a homeowner, and a dog benefactor (I know "dog mom" makes people's eyes roll, but "dog owner" is so impersonal). These were all major lifestyle changes, and each took time to get used to, but ultimately, all three have made me really, really happy. I feel more at peace with myself than I have in a long time.
The world at large is still often incredibly depressing, and 2018 hit some new lows. But, being a person with a tendency to lose myself in anxiety and despair, I like to take this time each year to reflect on my life, and the many reasons I have to be grateful. So here we go: a list of some things I did in 2018.
1. Designed (for Work)
In 2018, I designed eighteen full books (this means I did every element—the front cover, back cover, spine, and interior), and did an assortment of other book design work (cover concepts, interior only, etc.). I also did a mix of other graphic design and illustration work, including logos, packaging, maps (two of them for Rondo), a brochure of St Paul picnic sites, a comic for City Pages, and children's book illustrations. I worked with many cool clients throughout the year, and had the opportunity to take on a number of projects that were close to my heart, both aesthetically and in subject matter. It kept me quite busy! Here's to more of all that in 2019.
2. Designed (for Fun)
In addition to client work, I also fit in personal projects. These included a baby shower invitation and game, a repeating pattern of books, hourly comics day, side-by-side Twin Cities maps, a map of our house and yard, and a Twin Cities Brew Tour Zine (more on that in a minute).
3. Published
One of my most notable book projects of 2018 was Jamie Schumacher's It's Never Going to Work, which was published through my imprint, Marjorie Books, and for which, in addition to the cover and interior design, I also drew fifty spot illustrations. I've already written about how much this project meant to me, so I'll just say here, again, that it was truly an honor and a pleasure to be a part of bringing this lovely book into the world. I also designed and printed books by my mom and dad at the beginning of the year.
4. Read
In 2018, I read sixty books (and who knows how many comics). I didn't draw all the covers this year (as I have for the past four years). I'm trying to cut back on compulsive projects like that in order to make time for longer creative projects. But, because I'm me, I still tracked everything I read on a spreadsheet, so if you're curious, I can give you all the titles. I spontaneously decided to not read any books by cis men this year, and I have to say, it was nice. With so many despicable men making headlines, it felt really good to put the focus elsewhere for my personal reading.
Some of my favorite reads of the year were: All Grown Up, Would You Rather?, Half of a Yellow Sun, I'll Be Gone in the Dark, Chemistry, Based on a True Story, My Year of Rest and Relaxation, Against Memoir, Tranny, Give Me Your Hand, Tender Points, Vanishing Twins, and Heartburn.
5. Decorated
Jason and I made a lot of progress on our house this year. In September we painted our living/dining room, finally getting rid of the bizarre Barbie-pink trim and crown molding (though the pink still lives on, for now, in our hallway). We also did a bunch of decorating: hanging art on the walls, getting some large house plants to fill out empty corners, rearranging furniture, etc. It looks way better than it did this time last year. Prettier, and more "us." It's a relief to have most of the major painting projects behind us. The first year of homeownership felt like a giant, never-ending To Do list. Now we're in a place where sure, there are always more projects, but it feels less urgent.
6. Gardened
When we bought it, our house had literally zero landscaping. Not so much as a single bush. Luckily for us, this July, my Aunt Virginia, who is an incredible gardener (she used to own a gardening business), helped us change all that. In a single day, she, my mom, my sister and I planted over a hundred plants and completely transformed our yards (front, back, and side). I can't get over how much better the house itself looks, just by adding plants.
I also got really interested in house plants this year, after realizing that, with a small amount of education, I could adequately take care of them. (Basically: set them in an area that gives them the amount of sun they want, don't water them more than they want, and plant them in the kind of soil they prefer). This was so fun! I never noticed plants before this year, and now I covet them. I have to stop myself from acquiring plants I don't have space for. But I'm sure I'll still get some new ones in 2019.
7. Hosted
Last January, we had our first big party in the house. I'm sorry to say we haven't had a party like that since! Maybe we'll do something for Valentine's Day. We did have people over for lots of smaller, casual events throughout the year. Also of note: in December, I hosted my sister's baby shower, which included all my mom's friends and female relatives, which felt very grown-up. And in the last days of December, Jason and I had our first overnight guests (and their beautiful, gigantic Great Pyrenees, Moya). I hope we host more people and events in the new year.
8. Socialized
I did a bunch of fun stuff in and around the Twin Cities this year. Highlights include: Autoptic, Kinda Kinky Christmas (my second time—it was just as good as last year), two beautiful weddings (one in Stillwater, one in downtown Minneapolis), Har Mar Superstar and Sabrina Ellis covering the songs of Dirty Dancing at the Turf Club, kayaking on Cedar Lake, tubing down Minnehaha Creek, Jamie's book release party, and an inaugural meeting of a feminist book club. I was also a semi-regular attendee of the Twin Cities Brew Tour (see below).
9. Imbibed
This weekly event deserves special mention. My friend Chris (we went to Hampshire College together. If you read my Action Athena comics, you'll know him from his regular appearances there) moved to Minneapolis in 2016. In 2018, he decided to get to know the cities better by visiting every single brewery in Minneapolis and St Paul. Thus, the Twin Cities Brew Tour was born. Each week, Chris would send out a mass email letting people know which taproom he would be visiting, and when. Being Chris, he also included lots of helpful info, such as whether dogs were permitted, and whether the brewery served non-alcoholic beverages. At each event, Chris would read aloud from a list of facts he'd prepared, both about the brewery, and the neighborhood in which it was located. These facts ranged from the basic to the esoteric, and they always had a distinctly "Chris Semple" vibe.
At the end of the year, as the Brew Tour headed towards a close, I asked Chris to send me his notes, and secretly designed a 76-page zine of all of them, with a portrait of Chris on the cover. I was able to get copies printed JUST in time for the final event. The Brew Tour was a really fun part of 2018; even on the weeks I didn't attend, I enjoyed getting Chris' weekly email. I'm happy I was able to commemorate this unique event series in printed form.
10. Stretched
In 2018, true to one of my resolutions for the year, I did yoga every single day. Some days it was as little as five minutes, some days as much as an hour. Usually, it was in the 20-30 minute range. I have never been very flexible, and I'm still not that flexible, but I did make progress. For the first time in my life, I can touch my toes! Doing yoga regularly has provided me with all sorts of benefits. The main ones I've noticed are: 1) the stiffness and pains of "desk life" have dramatically lessened, 2) my anxiety has diminished, 3) I get irritated less easily, 4) I feel more comfortable in—and connected to—my body.
Also, this may have nothing to do with yoga, but for the record, I only got sick ONCE in 2018. (Right after Christmas I caught some holiday crud.) It seems possible that yoga, keeping my stress levels in check, may have made me slightly less susceptible to colds. I also cut back on caffeine and alcohol this year, and spent lots of time cuddling a beautiful pitbull. No doubt all of these things had positive effects on my mental and physical health. (And of course, working from home keeps me away from a lot of germs.)
11. Traveled
In April, for my birthday, Jason and I flew to Santa Fe. It was a wonderful trip; I would go to the Southwest again in a heartbeat. (Also, Meow Wolf was incredible.)
In July, my parents, Jason, my sister, her husband and I spent two nights in a cabin right on Green Bay in Wells State Park. It was bare bones, but beautiful. From there, we drove north into the Upper Peninsula and caught a ferry to Mackinac Island for my cousin's wedding. The wedding and location were gorgeous, and we had perfect weather for the outdoor ceremony, and for biking around the island.
In early September, Jason and I took our annual Wisconsin cabin trip. This is the third year we've done it—but the first with Wilma! She had a good time checking out the woods, and managed to eat a frog(!!!). We read a lot of comics, drank some good beers, and spent most of our time sitting on a sunny dock.
12. Drew
In addition to my sketchbook and some short stuff for The Marjorie, the main thing I drew in 2018 was the first pages of a longer comic that I'm keeping to myself for now. Suffice it to say that I'm excited about it, having a lot of fun with it, and hope to do more with it in 2019.
That's it for my 2018 wrap-up. I hope your year brought you some joy and growth as well. May we all be prepared to take on a new one.