On December 1st, I hosted an extremely important party: my sister Phoebe's baby shower! In just a few weeks, she and her husband will welcome their first child into the world. I plan to take my duties as aunt very seriously, and this shower was my first opportunity to do so. Thus, the invitation: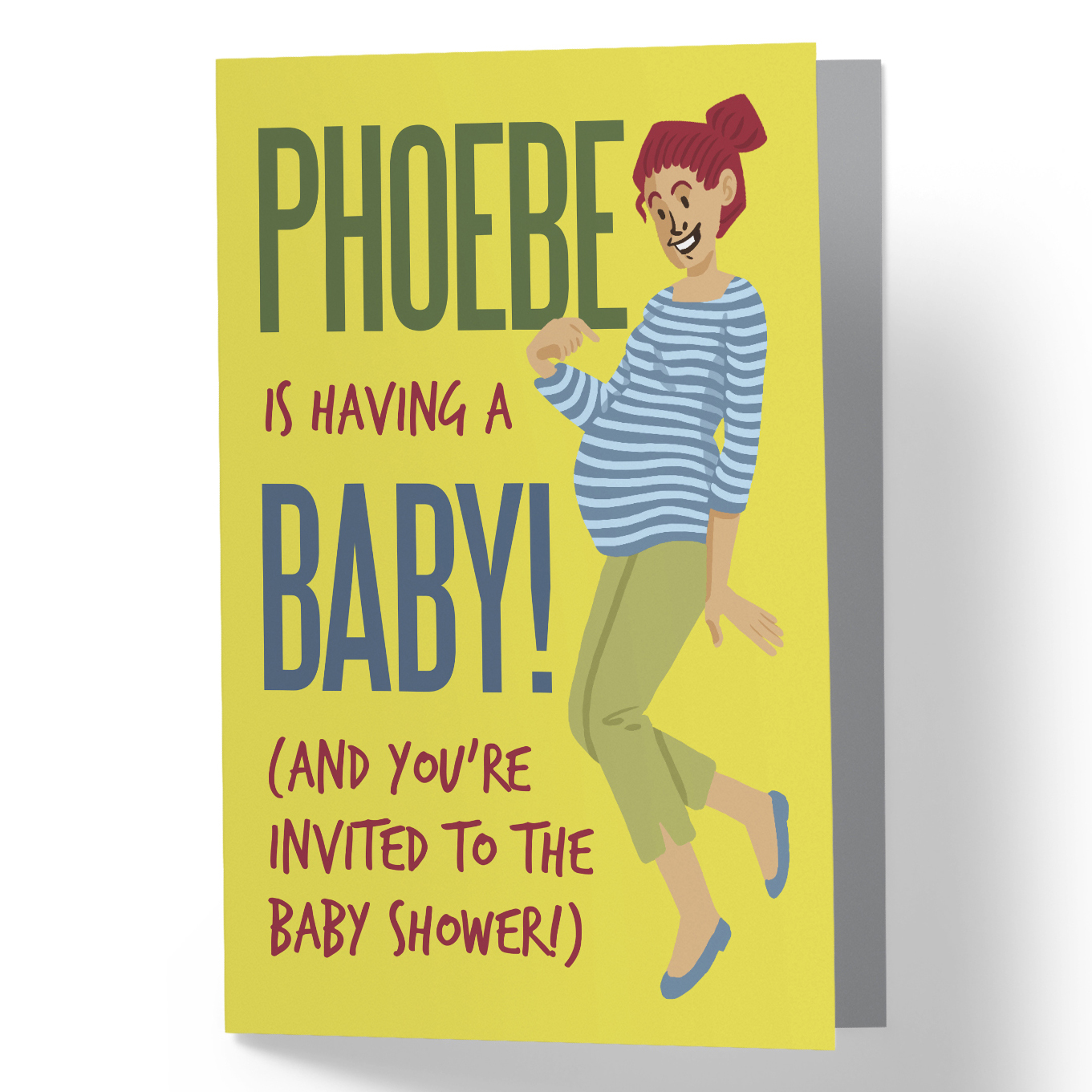 The cover features a pregnant Phoebe against her favorite color (yellow). The inside of the card uses the soft gray color that Phoebe has painted her nursery. I also drew the cute hand-me-down crib, and the beautiful mobile Phoebe made.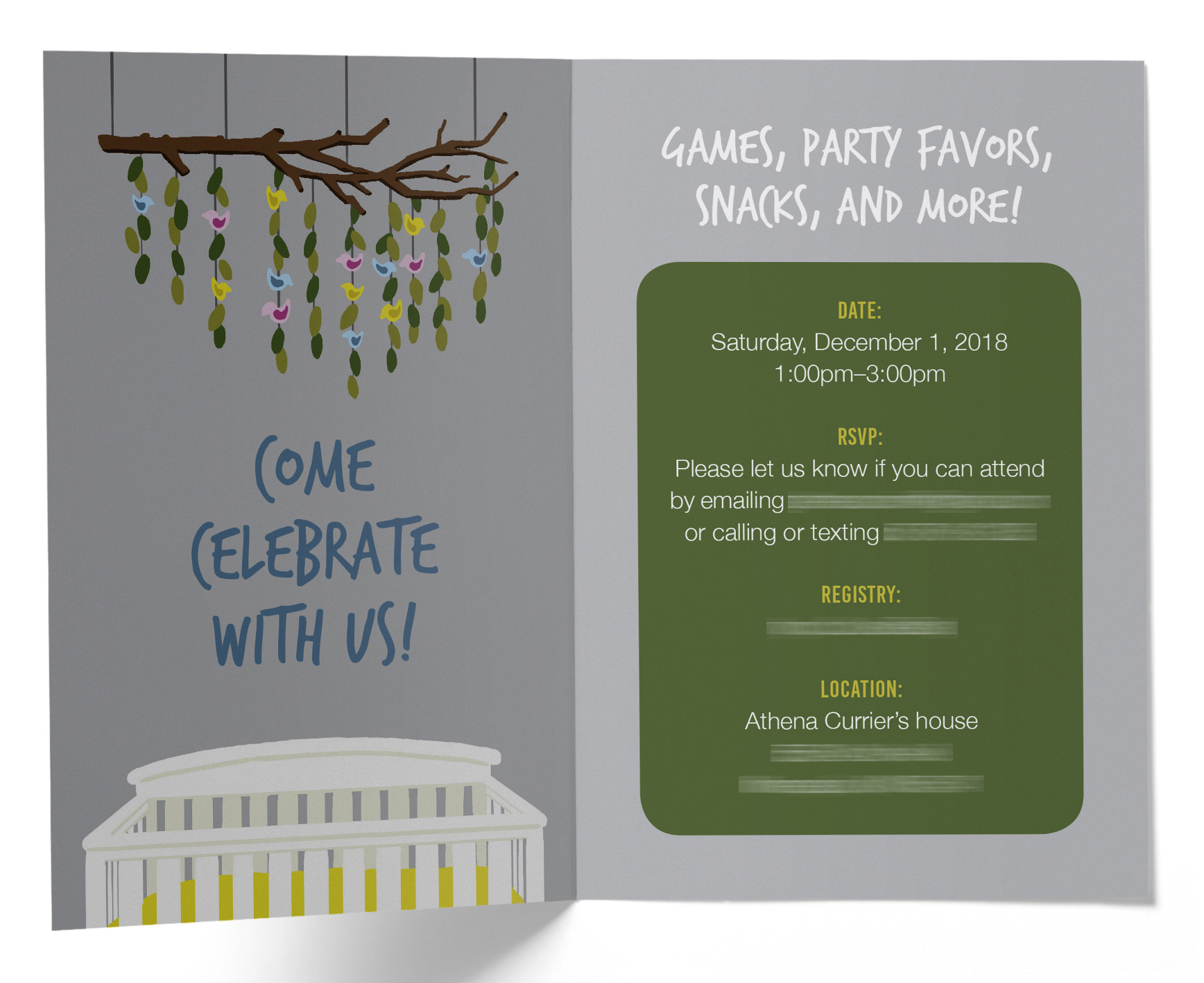 On the back cover I drew my favorite part: Phoebe's two cats, Enzo and Pi, dressed up in baby bonnets and bibs. The style is inspired by The Color Kittens from the Little Golden Books.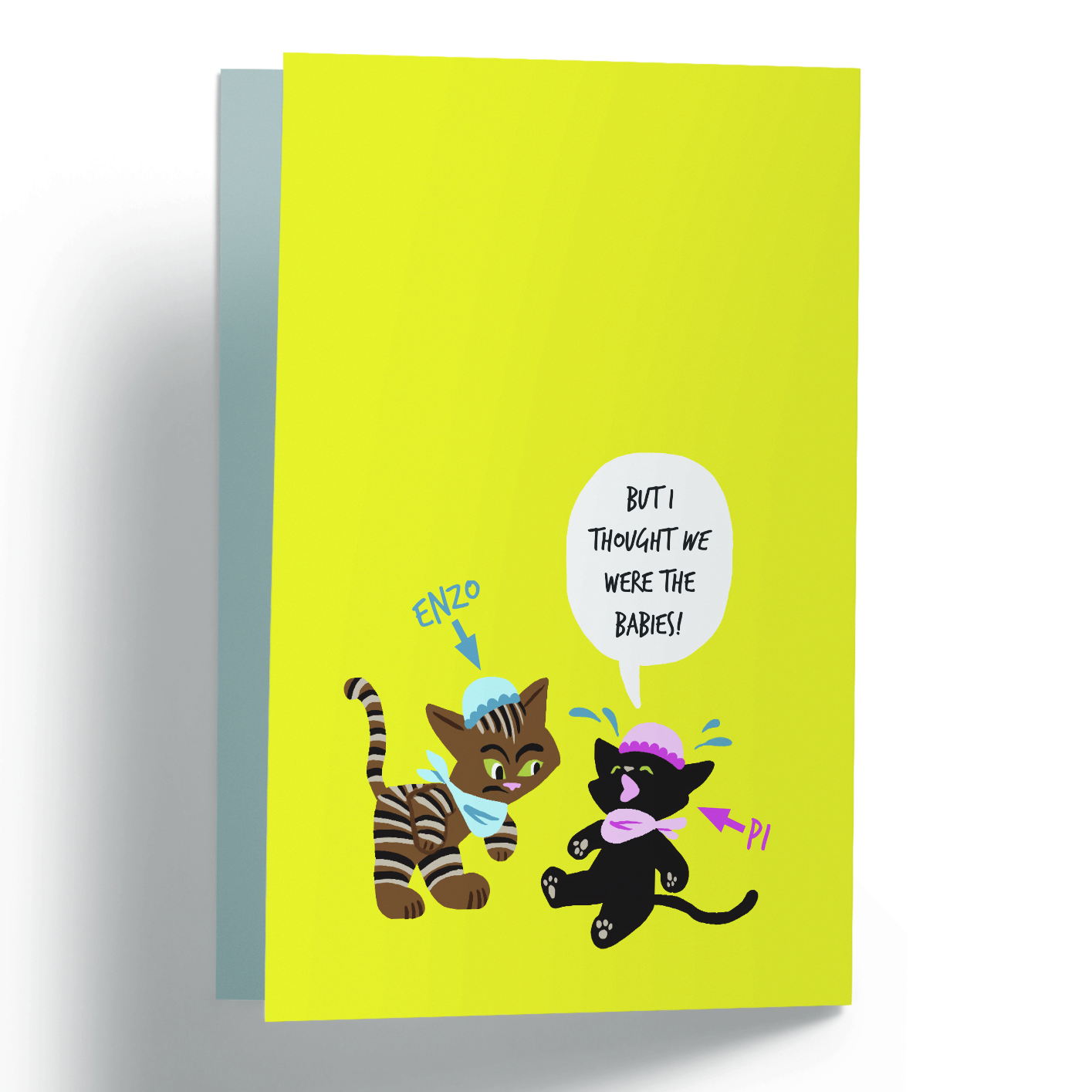 Phoebe is younger than me by nineteen months. Even though that amount doesn't mean much in adulthood, I still think of her as my little sister. Perhaps that's why it's a little hard for me to wrap my head around the fact of her pregnancy. My LITTLE SISTER is having a BABY!! It seems totally wild.
It really shouldn't, though. Phoebe has wanted to have a baby since she was literally a baby herself. This fact was made clear to me again and again as I reread her baby book (which my mom wrote in diligently during Phoebe's early years), culling Phoebe facts for a trivia game we played at the party.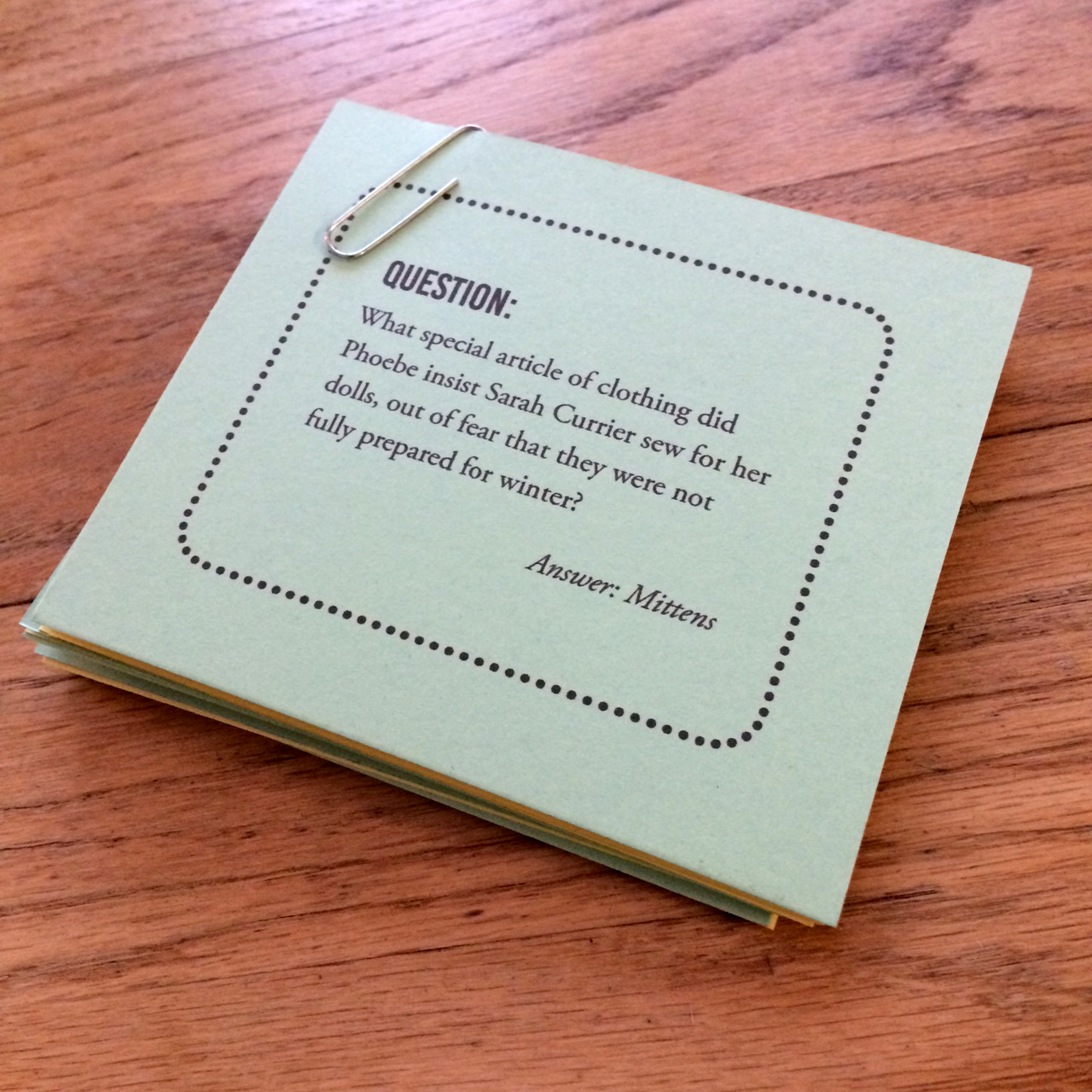 I wrote up a series of "Phoebe Trivia" questions and printed them on green cardstock. On yellow cardstock, I printed passages from the baby book, which related to the trivia questions.


Each guest at the shower read one question from a green card, and let the rest of us guess. Winners received prizes (which included young Phoebe's favorite baby-themed DVDs—Junior, Baby's Day Out, Look Who's Taking, etc.) After the guessing was done for that question, the corresponding baby book passage was read aloud.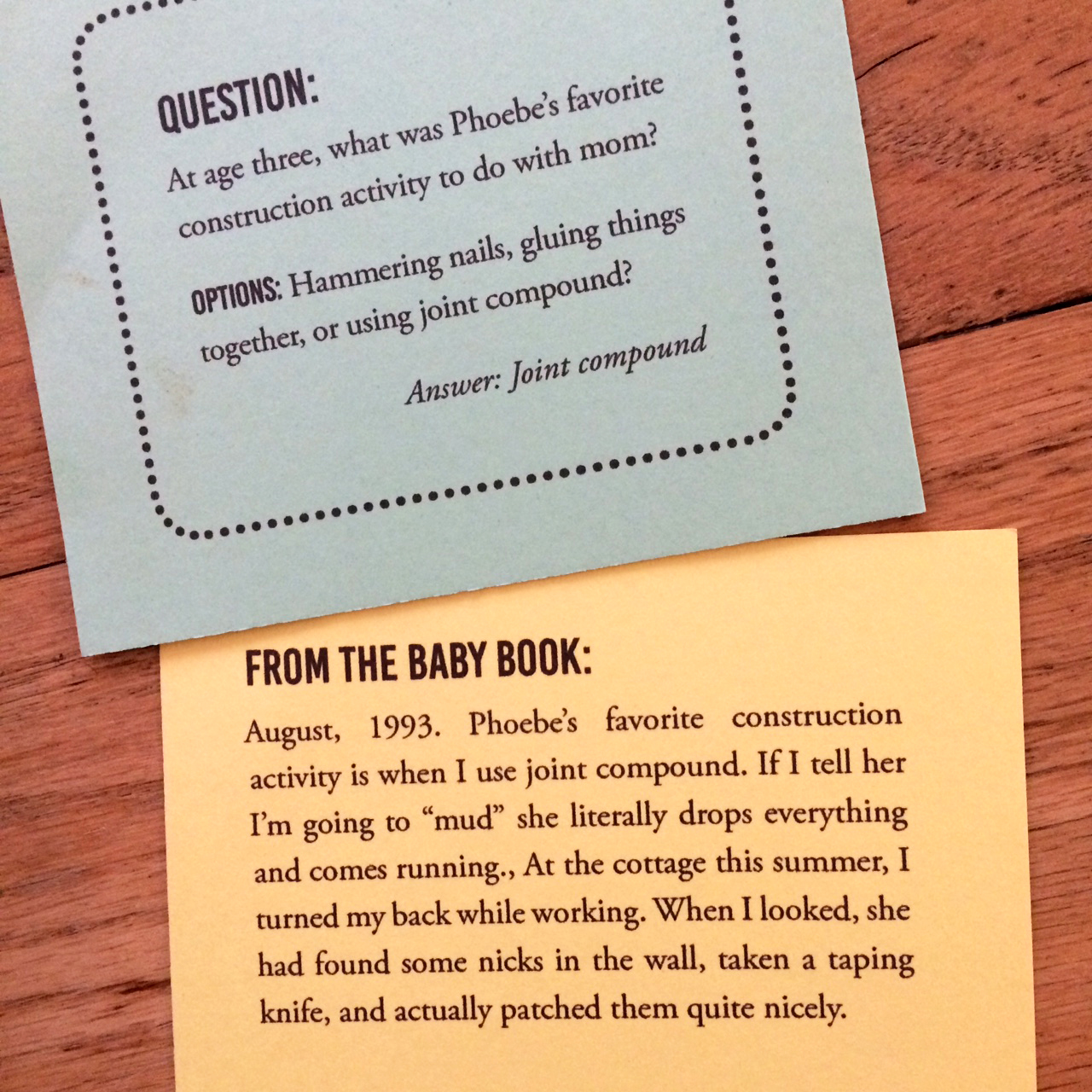 This game highlighted how much Phoebe has loved babies since a very young age. Over and over again, my mom wrote about Phoebe's obsession with babies. It was also funny to hear about how strong-willed little Phoebe was, making her quite a handful for her parents. If her baby is anything like her, Phoebe will have her work cut out for her!
But, as the baby book also made clear, Phoebe has also always been extremely dedicated and hardworking, so I know that whatever motherhood throws at her, she'll be ready for it. The due date is less than a month away now—I can't want to meet this baby!