Here are the next three books from my 2017 reading list: Martha Grover's One More for the People and The End of My Career, and Nathalie Léger's Suite for Barbara Loden.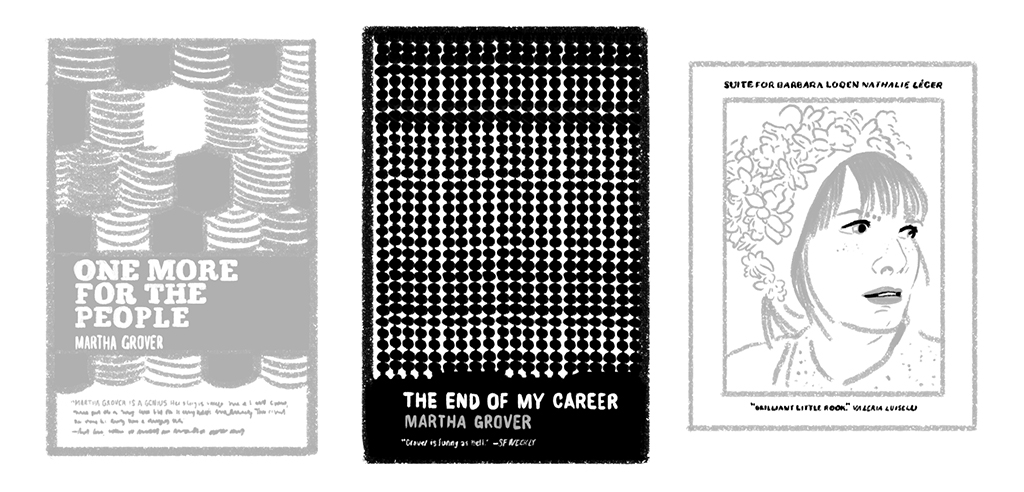 Martha Grover is a fantastic writer. One More for the People and The End of My Career are both collections of essays about Grover's life. All of them are great, but the two that my mind keeps returning to most often are from The End of My Career. In the title essay, Grover "gets hired as a state-sanctioned private investigator looking into shady workers' comp claims—even while she herself fights in court for her own disability settlement." The other essay from that collection that I keep thinking about is called The Women's Studies Major. In this essay, Grover begins dating an attractive older man with a women's studies degree and a knack for saying all the things a feminist woman want to hear. But one night she gets high, Googles his name, and discovers a website that paints an entirely different portrait of him.
Here are a couple passages from The End of My Career that I particularly loved:
I've worked in service my entire life and have never been the type to take responsibility for anything beyond my own actions. I know that taking personal responsibility for a company as a whole, as a lowly hourly worker, is a recipe for burnout. This is also probably why I have never advanced into management. Also, it's a dirty capitalist trick.
—page 96
Telling your story becomes more painful the more you are questioned and doubted. Often your story makes no sense to you, yourself. You have to wonder if you're just dramatizing or being hysterical. You find yourself asking: Did this really happy to me? It doesn't fit within the narrative of what I always thought my life was supposed to look like.
—page 125
I'd been meaning to buy Grover's books since I first heard about her work via Emily Books, and was lucky enough to find both at Powell's while in Portland. You can also buy them online through her publisher, Perfect Day Publishing, for extremely reasonable prices. However you buy them, do it quickly. These two books were among my very favorite reads of the year.
Nathalie Léger's Suite for Barbara Loden was another book that had been on my "To Read" list for some time—ever since I listened to the Barbara Loden episode of Karina Longworth's You Must Remember This podcast. It's a slim little book, but it packs a punch. I recommend it.