Here are three more books from my 2017 reading list: Zine Yearbook 9, Edan Lepucki's Woman No. 17, and Danzy Senna's New People.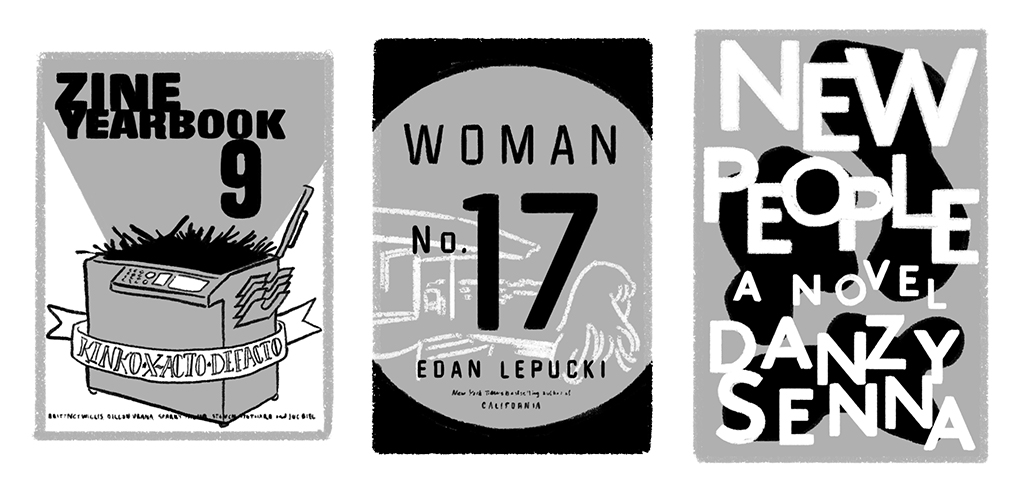 I picked up Zine Yearbook 9 at Cameron's Books & Magazines during my trip to Portland in September. It's an anthology produced by Microcosm Publishing. Later the same day, Jason and I ended up going to the Microcosm storefront. During the course of the trip, we also went to Powell's, Floating World, Books with Pictures, Future Dreams, and Cloud 9 Comics. Portland, your bookstores and comic shops are great! And so is Zine Yearbook 9. I sort of missed the zine era (I guess I came along for the blog/webcomic era?), but I've always loved zines and self-publishing (duh). This book felt like an old friend. Reading it while still in Portland made me wish for an alternate reality where I was like, working in a coffee shop and living alone in a little (magically affordable) apartment in Portland, making and trading zines.
When I got Woman No. 17 home from the library, I told Jason, "read the synopsis." He got one sentence in and was like, "well, that sounds exactly like a book for you." The first sentence is: "A sinister, sexy noir about art, motherhood, and the intensity of female friendships, set in the posh hills above Los Angeles." That's basically the kind of book I want to read (and the kind of movie I want to watch) all the time. Weird twisted stories about complicated relationships between women that go off the rails to the point of crime/thriller territory. Give me a never-ending stream of books and movies like this, and I will die a happy woman. (Thank goodness for Megan Abbott, am I right?) Anyway, Woman No. 17 delivered. I enjoyed this book a lot.
Danzy Senna's New People is another a book that starts out straightforward, and gets increasingly surreal. The protagonist, Maria, is a graduate student writing a thesis on Jonestown. She's engaged to marry her college sweetheart, Khalil. But she can't stop thinking about someone else—a poet she's only barely met. Still not sure how I feel about the ending (it's pretty abrupt), but I definitely enjoyed the story along the way.