Here are another three books from my 2017 reading list: Chuck Palahniuk's Fugitives & Refugees: A Walk in Portland, Oregon, Ann Patchett's Truth & Beauty: A Friendship, and Chimamanda Ngozi Adichie's Americanah.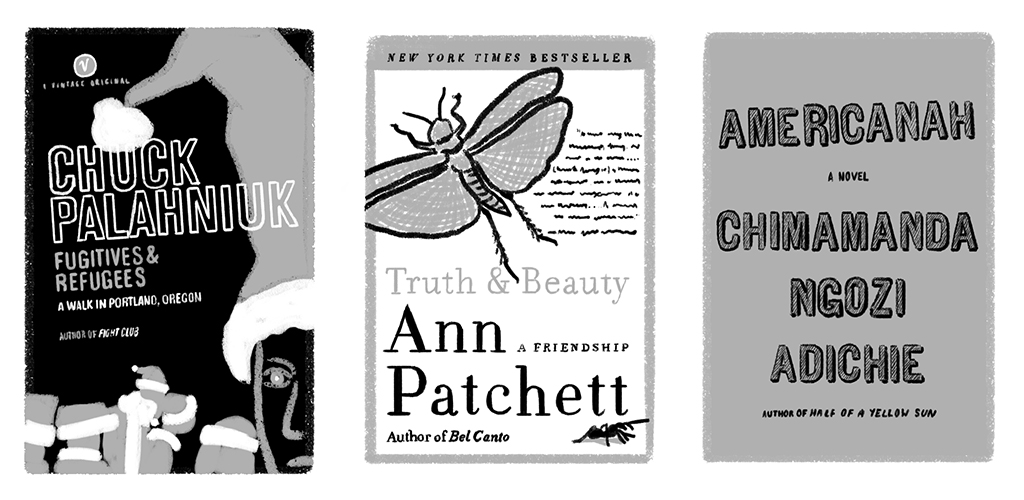 I read Fugitives & Refugees after finding it on my parents' bookshelf and thinking, "Hey! I'm going to Portland in September!" It is a bunch of short pieces about some of Palahniuk's favorite things in Portland, and his memories of living there over the years. Though the book was published in 2003, so some of the info was out of date for my tourist purposes, it was still a fun thing to read prior to the trip.
Truth & Beauty was one of my very favorite books of the year. I loved this book, from start to finish, and couldn't put it down. It's a memoir of Patchett's friendship with the author Lucy Grealy, who died in 2002. Patchett's writing is beautiful, wise, and full of love. This is the kind of book I know I will reread before long.
Americanah was another of my very favorite books of 2017. In fact, it was number one. I actually grieved finishing this book, something I don't do very often as an adult. I still miss it. I wish I could keep being in that world, with those characters, indefinitely. I would recommend this book to anyone. If you haven't yet read it, go do so. Immediately.