The past two Decembers (2015 and 2016), I wrote end-of-year posts summarizing some of my favorite moments and accomplishments. Despite 2017 being a raging dumpster fire for the world at large, I'm continuing this tradition and taking a moment to feel grateful for the good things in my own small life. So here's some stuff I did in 2017: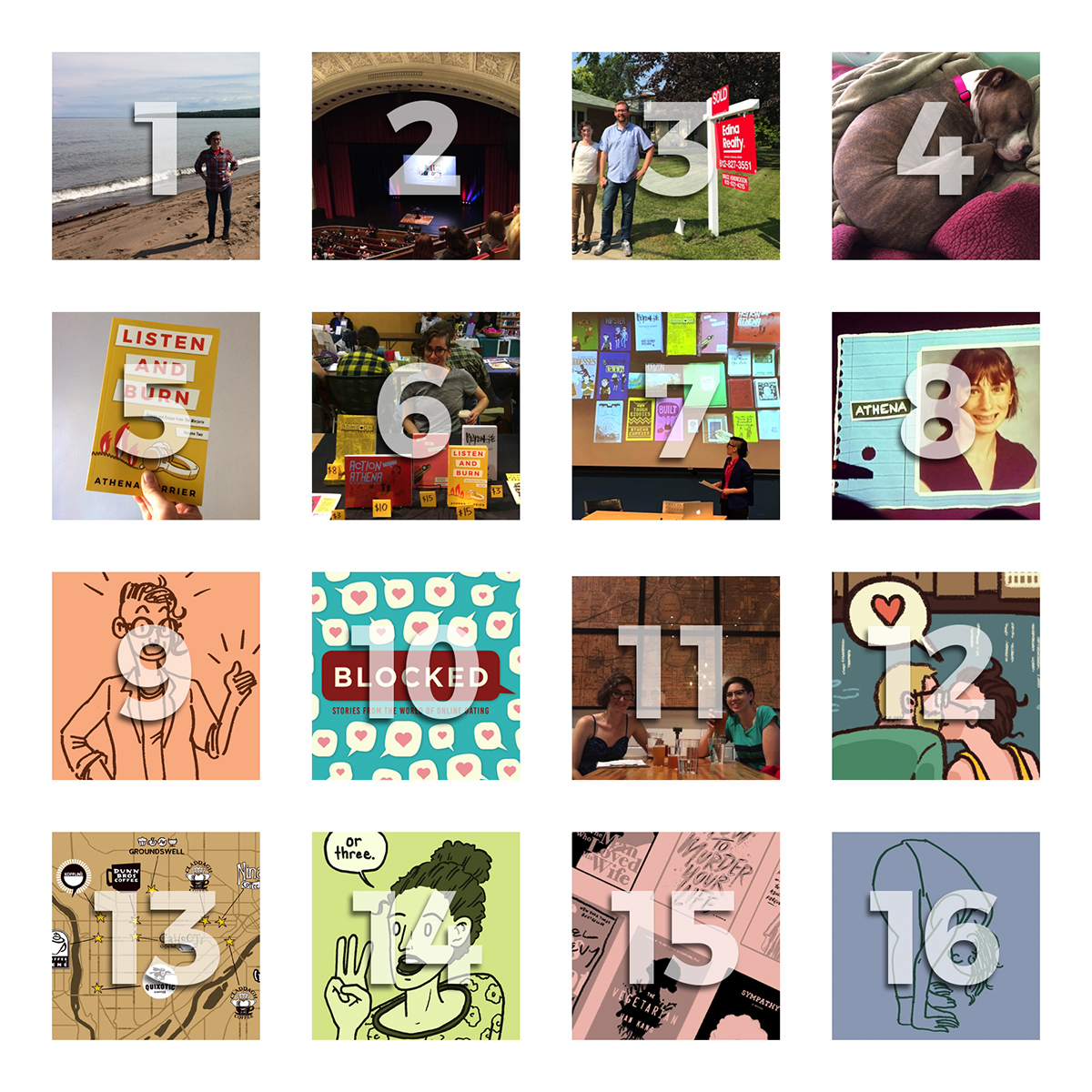 Traveled
My 2017 featured a number of short plane trips and road trips—for work, for weddings, for whatever. In April, I flew to Amherst, MA to speak at Hampshire College. Later that month, Jason and I drove to New Glarus, WI for a long weekend (stopping at The House on the Rock on the way!). In June, my sister and I flew to New York to visit some friends in Brooklyn. In August, Jason and I spent several days at an adorable cabin in Drummond, WI. In September, we drove to Duluth one weekend for a friend's wedding. The weekend after that, we flew to Portland for a different friend's wedding (which we turned into a larger Portland vacation).
Went to Events
In addition to traveling out of state, I also did a bunch of fun things within the Twin Cities. Highlights include a Jayhawks show at the newly-opened Palace Theater, a Remembers show at Fulton, a Kinda Kinky Christmas show at Eagles 34, a My Favorite Murder meet-up at Sisyphus Brewing, a My Favorite Murder live show at the Northrop Auditorium, a My Brother My Brother and Me live show at the Orpheum, and a bunch of cartoonist sketch party nights at various breweries. Last night Jason and I welcomed the new year with a Cactus Blossoms/Frankie Lee show at the Turf Club. I would love to have more of this in 2018. Traveling is awesome, but in light of some new responsibilities Jason and I took on this year, I'm all for doing more short events that are closer to home. Speaking of…
Bought a House
In 2017, Jason and I BOUGHT A HOUSE. We closed on September 12. We moved out of our old apartment on October 12. Autumn was a real rollercoaster of packing and home improvement. I couldn't possibly wish for a better house, or better person to share it with.
Adopted a Dog
After years of apartments with "no pet" policies, I was thrilled to become a homeowner and finally have the ability to adopt a dog. That said, I didn't think it would happen quite so fast. But my friends posted a photo of their latest foster dog, and…I was a goner. After a test run where Wilma stayed over at our house for a few nights, it was obvious she was an easy and wonderful addition to our home. She is the best dog in the world (and snoring loudly as I write this).
Published a Book
I released Listen and Burn, my second collection of Marjorie work, in September of 2017. This book is the follow-up to Fear and Transportation, which debuted in 2016. Both are available for sale right here. Both collections are full-color, filled to the brim with my writing, comics, and illustrations.
Tabled at Zine Fest
This was my fourth year having a table at Twin Cities Zine Fest (I tabled previously in 2010, 2011, and 2016). It was my favorite year yet. This year's event took place at the MN Center for Book Arts. It was a fantastic space for Zine Fest, and there were so many fantastic exhibitors.
Spoke at Hampshire College
In April, I was excited and honored to be invited to speak at my alma mater, Hampshire College, on the topic of "Making Comics After Hampshire." I met so many talented students, and had so many great conversations with students, professors, and staff. Hampshire is where I created my very first Action Athena strips way back when. It was fun to reconnect with the place that started it all.
Performed in Mortified
In October, I reconnected with another former self: the ninth grade Athena who kept a prolific—and often extremely embarrassing—journal. I read excerpts from that journal onstage at Amsterdam Bar and Hall as part of Mortified's fall show. I had an absolute blast. Thank you to all the family and friends who came out to support me!
Went Freelance
At the end of September I took a scary but exciting step and became a full-time freelance designer. So far, I totally dig it.
Designed Books
Though my work includes various kind of graphic design and illustration, book design is still a major passion. In 2017, I designed dozens of books in all kinds of genres. To see some of my recent favorites, check out my book design portfolio.
Socialized
There were some big friendship moments in 2017, both happy and bittersweet. The hardest one was moving away from my sister Phoebe. Both of us bought houses this year. Until then, we'd had the great fortune of living in apartments just TWO BLOCKS from each other. Though our houses are not too far apart (a 20-minute drive) it's no comparison to that two-block walk. In 2018, I hope to continue to make time to see my sister, and not let the new distance push us apart. In happier news, in 2017 I continued to reconnect with Chris, an old college friend who moved to Minneapolis in 2016. It's been really fun to get back in touch. Also in happy news, the house that Jason and I bought is less than a mile from our good friend Britt. Neighborhood bike rides, sketch parties, and Hannibal marathons are all very much within reach.
Stayed Married
In 2017, Jason and I celebrated our second wedding anniversary. We have been a couple for more than seven years. Wow! He is the best. Here's to many more.
Drew Some Maps
I drew a couple new illustrated maps this year (Minneapolis Tap Rooms, Saint Paul Coffee Houses) and added new icons to an old one (Saint Paul Tap Rooms).
Drew Some Other Stuff
Other illustration highlights of the year included some new patterns and comics, including one for the annual City Pages' Comix Issue. I also had a lot of fun getting looser in my sketchbook (particularly ditching the pencil sketches and going straight to ink).
Read Some Books
I read forty-five books in 2017. I've been posting some of these over the past few weeks as I illustrate each of the covers. Stay tuned for my annual full illustrated list.
Did Some Yoga
Maybe it's getting older, maybe it's too many years hunched over a desk. Whatever the reason, my body has begun to feel a bit creakier and crankier. But adding some yoga into my life has made a BIG difference. I hope to continue that practice in 2018, and work on strength and flexibility.
That's it for 2017! See you at Jason's 33 1/3 birthday party later this month.