Here are the next three books from my 2017 reading list: Rumaan Alam's Rich and Pretty, Roxane Gay's Hunger: A Memoir of (My) Body, and Sara Majka's Cities I've Never Lived In.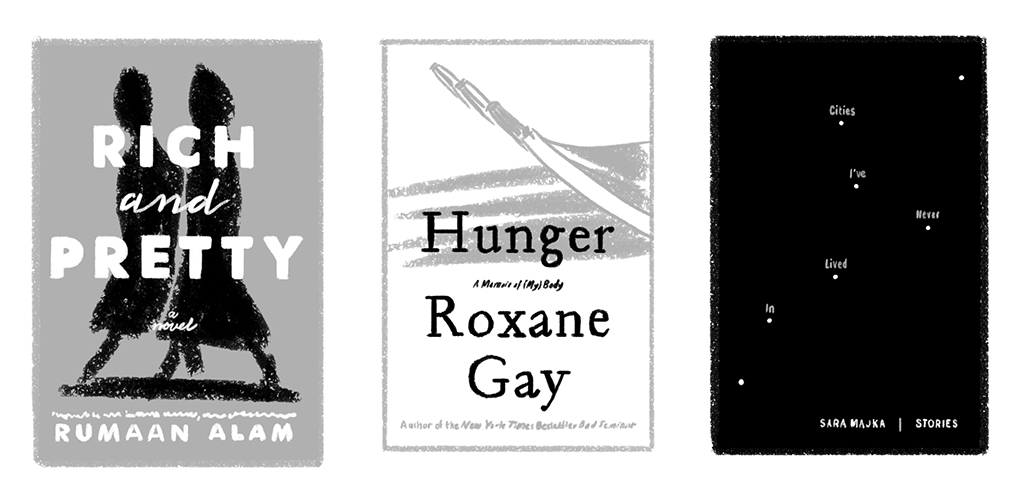 Rich and Pretty is a novel about a friendship between two women who have known each other since childhood, and are now in their early thirties. The book moves back and forth in perspective from one woman to another. I was impressed by how well Aman described the quiet sadness of drifting apart from an old friend, and how much I found both of the protagonists both relatable and unrelatable, depending on whether I was in that woman's head, or viewing her from the perspective of the other.
Roxane Gay's latest book is as honest, thoughtful and wrenching as her previous one. Some of it was so painful, it was nearly impossible to read, so it's not something I would recommend lightly. But I appreciate and admire Gay for continuing to write her own truth and experience without glossing over the ugly parts, or tying everything up with an artificially cathartic bow.
Cities I've Never Lived In is an interesting collection of short stories: some are starkly realistic, while others are magical and surreal. Reading this one felt kind of like walking through a series of dreams—none of them quite nightmares, but all leaving me with a feeling of uneasiness and alienation.