Three more books I read in 2017: Julie Schumacher's Dear Committee Members, Sarah Gerard's Binary Star, and Alexandra Kleeman's You Too Can Have a Body Like Mine.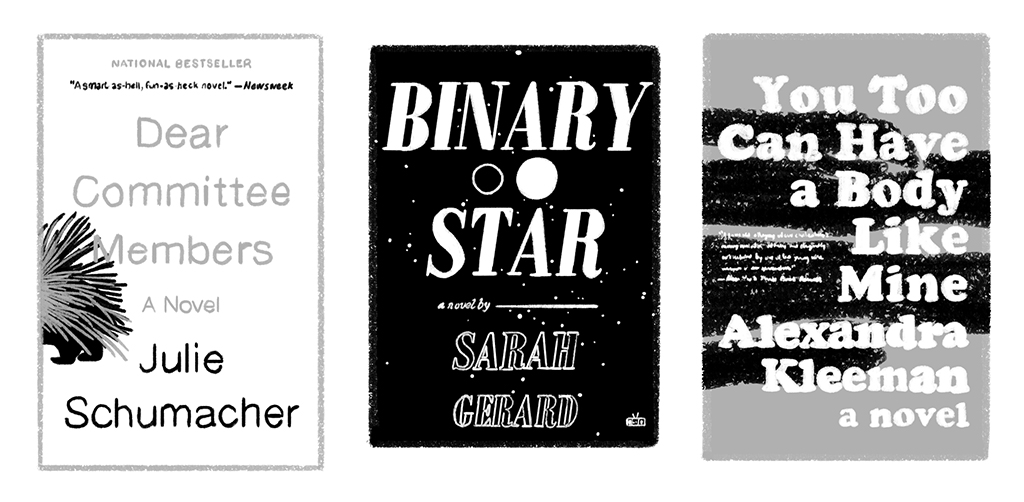 Dear Committee Members is funny, inviting, and kind. The entire story unfolds via a series of letters written by put-upon English professor Jason Fitger, mainly letters of recommendation that Fitger has been asked to write for former students. Schumacher uses this structural constraint to fantastic (and hilarious) effect.
Binary Star was tough to read. Not because the writing was lacking, but because it did such a thorough job of immersing the reader in the mind of the protagonist—who is in a terrible mental state, and a toxic relationship. The story follows a road trip from hell, during which the two main characters discover a book on veganarchism, and think they've found the answers they seek.
Alexandra Kleeman's You Too Can Have a Body Like Mine was one of my top three books of the year. I absolutely loved it. I read a lot of strange, surreal, feminist novels, but trust me when I say that this one was truly unlike anything else. It was so smart and singular, brimming with wild, inventive ideas. Kleeman's descriptions of fictional game shows, commercials, junk foods, and chain stores are incredible; they seem at once totally over the top, and weirdly believable. She is a fantastic writer. I can't wait to see what she does next.