It's almost December, so we're getting real close to the end of this reading list. But today, here are three more:
If you have been living under a rock and are somehow still unfamiliar with Tig Notaro's story, you can buy the album, and/or listen to the segment on This American Life. In very brief summary: in the span of four months, Notaro, a comedian, had a series of really, really terrible things happen to her, culminating in her now-famous set at Largo, which she opened with the line, "Good Evening. Hello. I have Cancer." Notaro's book, I'm Just A Person, tells the story of the events that led up to that night, and the events that came after. Notaro is great, and so is her book.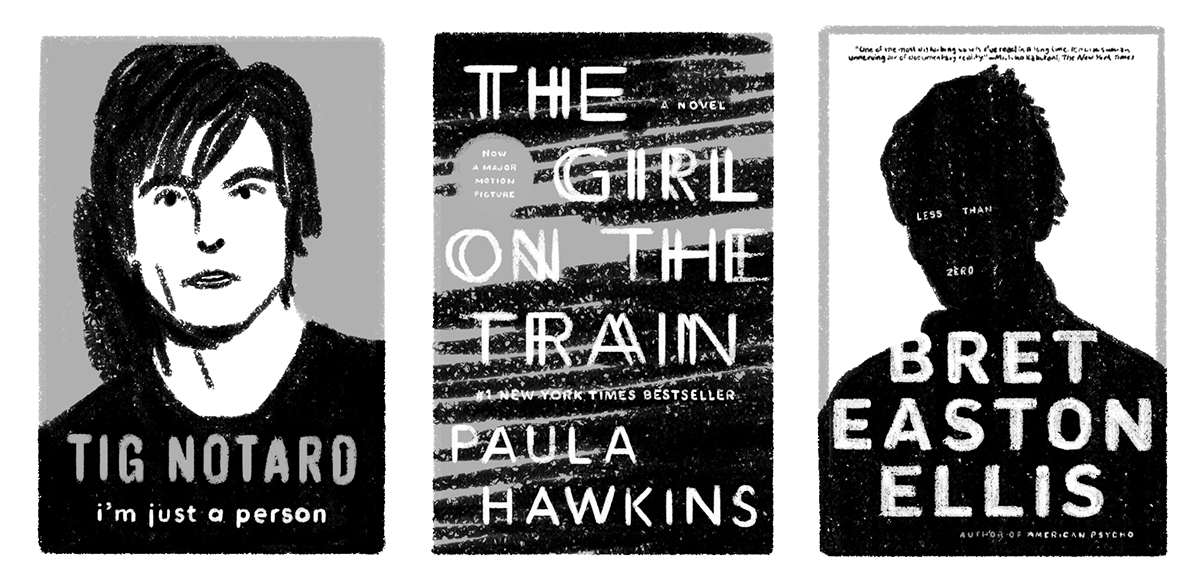 Paula Hawkins' The Girl on the Train was published shortly after I began working in a bookstore, so I was hyper-aware of it at the time (as everyone was asking for it), but I didn't get around to reading it until recently. It was a page turner, but I must share one small gripe I sometimes have with mystery thrillers like this: if you have a very limited cast of characters, and you know the murderer can't be the one or two guys who seem too obvious for it, then it's got to be…the other guy. Do you know what I mean?
I mentioned another Bret Easton Ellis book in an earlier post. Now I'm back with his very first book, Less Than Zero. This book was released when Ellis was twenty-one years old! He wrote it when he was nineteen! How insane is that? I'll leave you with his own words about it:
I read it for the first time in about 20 years this year–recently. It wasn't so bad. I get it. I get fan mail now from people who weren't really born yet when the book came out [groans]. I don't think it's a perfect book by any means, but it's valid. I get where it comes from. I get what it is. I know that sounds so ambiguous. It's sort of out of my hands and it has its reputation [laughs] so what can you do about it? There's a lot of it that I wish was slightly more elegantly written. Overall, I was pretty shocked. It was pretty good writing for someone who was 19. I was pretty surprised by the level of writing.