Here are three more books I read in 2016, by three intelligent, fascinating writers, all of them female.
Emma Jane Unsworth's Animals came to my attention because it is an Emily Book. I read a lot of Emily Books, though I read them when available in print, as I have never managed to become an ebook reader. (Which is okay, maybe?) Fortunately for me, Minneapolis' own Coffee House Press partnered with Emily Books in 2015, and is now producing print editions of select Emily Books. (The print edition of Animals that I read, however, was produced by Europa Editions.) If you are ever wondering what to read next, I strongly suggest checking out Emily Books. You can't go wrong.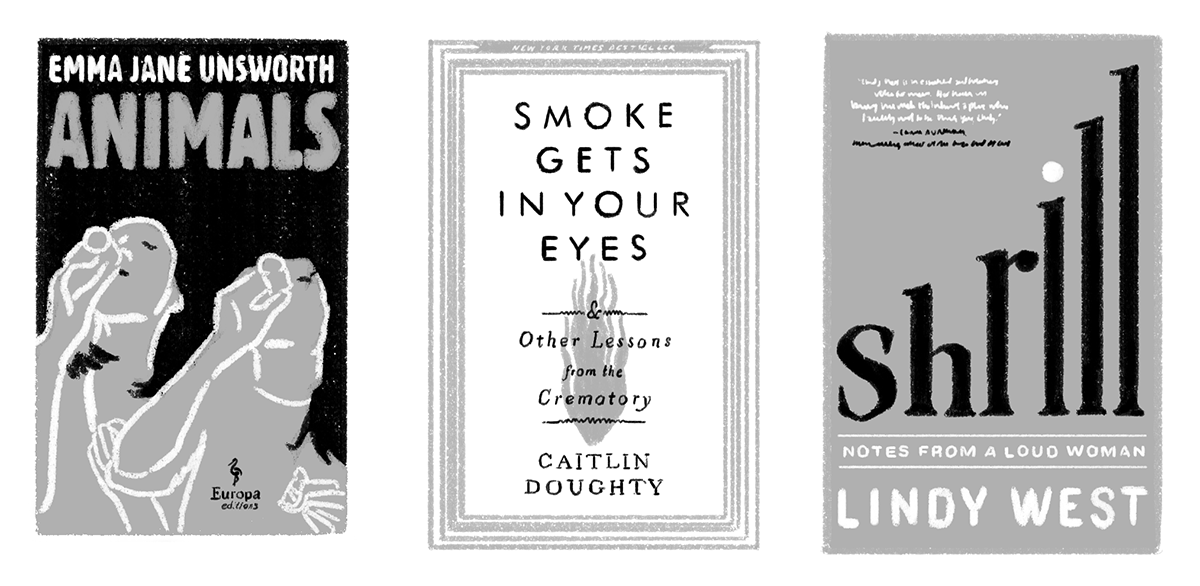 Smoke Gets In Your Eyes: And Other Lessons from the Crematory was recommended to me by my friend Britt, as well as Jezebel. Britt and Jezebel were correct; it's great. Caitlin Doughty is the woman behind Ask a Mortician. Smoke Gets In Your Eyes provides an intimate and unflinching observation the death industry, and our cultural ideas about death as a whole.
And then there's Lindy West. Holy lord, Shrill is such a good and important work, surely I am not the first one to tell you about it. There is little I can add. All I will say is that I couldn't stop talking about it to others while I was reading it, and I can't recommend it enough, despite (and because of) the fact that it made me shake with fear and anger at several points. The amount of shit that West has to put up with, as a fat woman who dares to write and speak and exist, was not shocking to me, but it is staggering to read a chronicle of it all at once. (If you are unfamiliar with Lindy West, I suggest listening to this episode of This American Life in which she confronts an internet troll who impersonated her dead father.)