I mentioned last time that I primarily read books by women, but now here are two by men. And in fact, I've read quite a few books by both of these men, Bret Easton Ellis and Haruki Murakami. They are authors that I find myself in the mood for every six months or so. "Well, time for another Bret Easton Ellis book." "Hmm, which Murakami book should I read next?" Both have such distinctive voices, and both have created a specific world within their fiction. Even if they are writing about totally new characters, you feel like you are falling back into the particular world of that author with each book you pick up.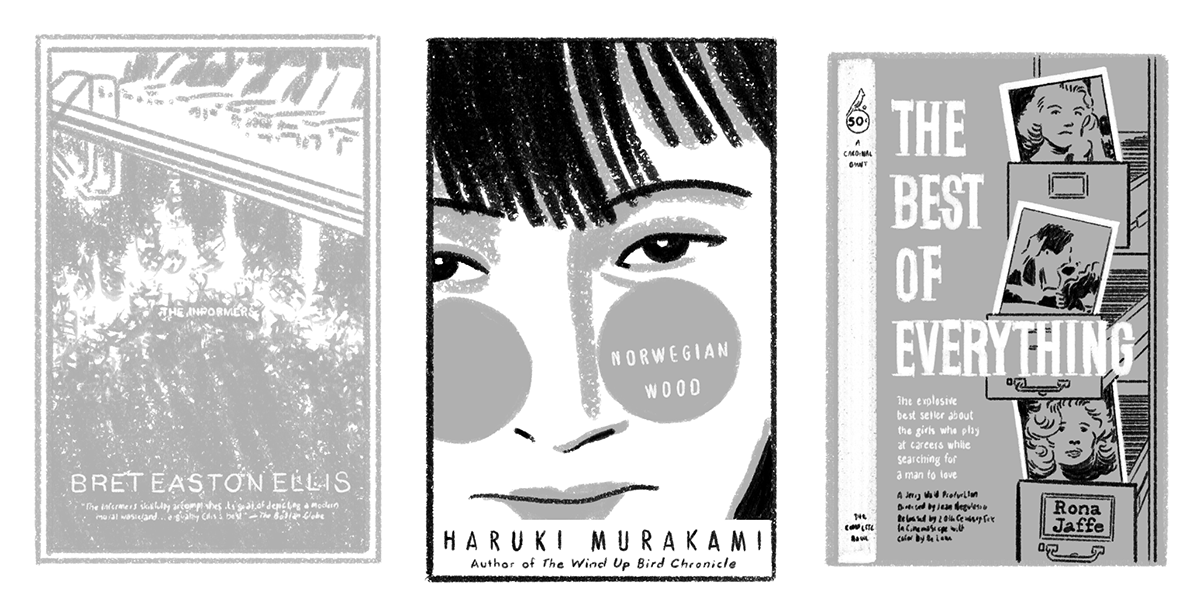 The Informers is a collection of short stories by Ellis. It is very good, and also genuinely scary and upsetting. I like it when a short story collection feels thoughtful and cohesive, rather than like a bunch of disparate pieces the author's publisher has lumped together. The Informers is extremely cohesive. There were two stories in particular (the two scariest and most upsetting) that felt so well-placed, it took my breath away. Though the stories primarily take place in the real world, without any fantastical elements, characters make repeated reference to a group of self-proclaimed vampires that may or may not be growing in number throughout LA. Finally you get to a story that features one of these vampires, and it is violent and brutal. But that story is immediately followed by an even more brutal one, which is not about vampires, just terrible humans. It was like Ellis was chastising the reader for being curious and anxious about vampires. Don't we know there are already terrible monsters among us?
Norwegian Wood is one of Haruki Murakami's most famous books, and the one that propelled him into worldwide fame. Like many of his books, I thought it was lovely and dreamlike and wistful.
The other book I'm featuring today is Rona Jaffe's The Best of Everything. Originally published in 1958, the tag line on the version of the cover that I've featured here says a lot: "the explosive best seller about the girls who play at careers while searching for a man to love." There's a scene in the first season of Mad Men where Don Draper is reading it. I very much enjoyed it, and found it by turns relatable and disheartening, like so many of these mid-century books about being a woman.