How To Grow Up, Michelle Tea's latest book, was released this January.  I was the first person to reserve it from the Hennepin County Library System, some months before.  I've strongly liked the rest I've read of Tea—the autobiographical Valencia and The Passionate Mistakes and Intricate Corruption of One Girl in America, and the fictional Rose of No Man's Land.   And Rent Girl, a collaboration of word and image between Tea and the artist Laurenn McCubbin.  Rent Girl is also autobiographical, detailing Tea's experiences as a prostitute.  What I've loved in all of Tea's work is her intensity, and how freely and unabashedly she shares her life.
Sadly, I found less of this in How To Grow Up.  I didn't hate it, but I missed the manic energy of the earlier stuff.  One could use this example to have the same, tired discussion over whether creativity stems from drug use and unhappiness (Tea is currently married, many years sober, and by all accounts very happy).  But I hate that discussion, and for every example in favor of it, there's another against it.  So rather than dissect why I am not thoroughly in love with How To Grow Up, I want to talk about reading Valencia.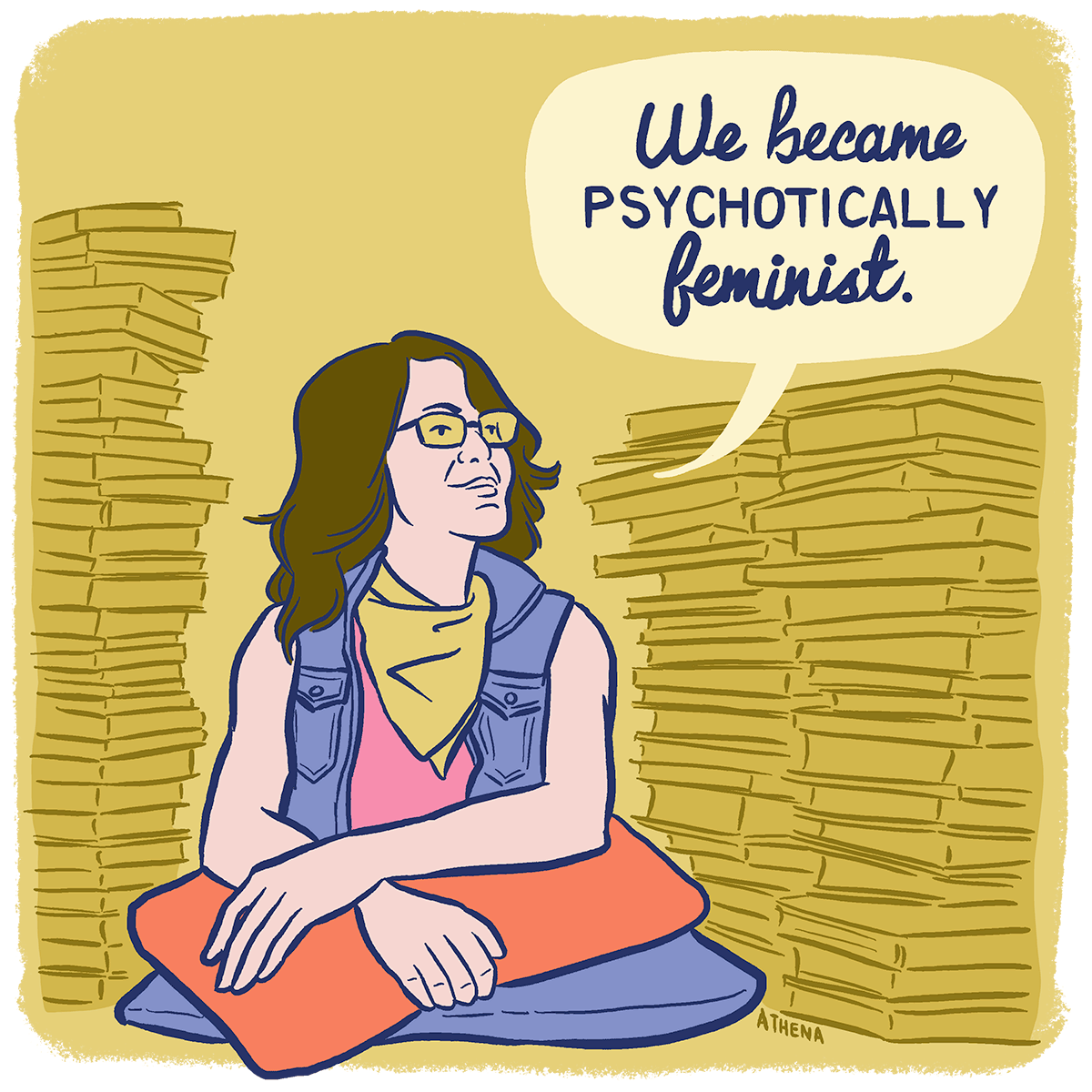 I bought Valencia at an antique store in downtown Savannah, Georgia shortly before I moved away from there.  By that time, most of my things were gone—books, spare clothes, wifi, and the boyfriend who'd helped me pack it all (he'd left early for a new job in Minnesota while I remained to finish my graduate program).  I was bored and anxious.  There was little in the apartment to distract me.
Finding a Michelle Tea book in that store, in Savannah, seemed miraculous.  Ninety percent of the place was the same old knicks knacks and furniture of any Historic District antique shop.  But one stall had a few contemporary used books, and one of the books was Valencia.  I bought it immediately, and read it in days, finishing it on a bench in Madison Square on my last night in the city.  I wished immediately for more.  I wished there were an endless number of Valencia installments I could read for the rest of my life, stockpiling and hoarding the way Howard Hughes hoarded banana nut ice cream.
As if it was not lucky enough to find the book, I discovered that my particular copy was marked throughout with notes from the previous owner.  First it was only underlining, for lines that often resonated to me as well.  Lines like, "I could have stayed on that bus forever, someone else driving, always on my way, never arriving"or "I wanted to ring Danielle Steele's doorbell and tell her to stop oppressing my mother."    But then, in regard to this passage:
"I had a revelation about everything both being very important and not mattering at all.  It was such a beautiful thought.  It both pulled you in and released you."
…there was written in the margin, "um, echoing my entire philos. of life???"
Or for this line:
"Every conversation was a vehicle for George to demonstrate his stellar political consciousness, which was fine because everyone's political consciousness was very fresh and important, and we loved to dress them up and trot them around the ring."
…in the margin beside it was written "missoula lesbian scene."
Valencia became more pertinent to me, and its previous owner, when Tea and her then-girlfriend, the beautiful, boyish Iris, travel to Iris' small Georgia hometown for Iris' sister's wedding.  This line was underlined:
"It was making us sick, Georgia, physically sick."
I would have underlined that one too.
And beside this line:
"It was kind of twisted, the obsessive hospitality of a southern drug addict." (page 93)
…she'd written, "Savannah lesbians."
It was deliciously vicarious to read Tea's account of her wild youth in San Francisco, and beside it these notes from what appeared to be a young lesbian who had lived in Savannah.  I felt disappointed in myself: I had just spent two years in Savannah and hadn't met a single lesbian.  Why had I wasted so much time chained to a desk, trying to twist my drawing style into something my traditional (mostly male) professors might admire?  Why hadn't I keyed the cars of the horrible Southern drivers I encountered every day, as Tea's Iris would have?  Why hadn't I attacked the men who yelled obscenities at me on my runs, as Tea would have?  Why didn't I have the guts to become "psychotically feminist"?
Frankly, I was too exhausted.  Too worn down and lonely and depressed from trying to fit in to a grad program, a city, a state, that seemed to have no place for me, no matter where I looked or how I tried to mold myself.  I wish I hadn't tried to mold myself at all, and instead found the courage to fight.  Maybe I am too Midwestern for that.  I am not from the Deep South, as the book's previous author appeared to be.  I did not grow up outside Boston, as Tea did.
But it was wonderful to soak up some of that fight as I read Valencia.  When I finished it, I walked back to the motel where I was staying the night before my flight, and started a new book.  In the morning, I ate donuts in the motel lounge, the only other "guest" a withered, barefoot man in hospital scrubs with a plastic ID bracelet still clamped on his wrist.  Then I flew home to Minnesota.